Archives by date
You are browsing the site archives by date.
Let's start the Academic year off right by learning how to keep yourself and the UBC community safe and secure on campus. During Safety Awareness Week, visit UBC Campus Security's information booths across various locations on the UBC Vancouver campus to learn about theft prevention and helpful safety and security tips.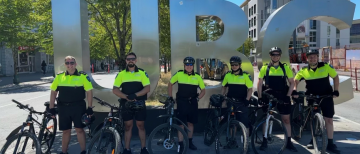 Campus Security has been supporting our newest wave of bike patrol officers, who recently completed a bike patrol training course. This training allows them to continue to monitor and respond to our community's needs promptly.
Reflecting on the shocking stabbing at UWaterloo, we wish a speedy recovery to the injured professor and students and reaffirm our commitments to safety and inclusion of 2SLGBTQIA+ students, faculty and staff and those who work and learn in solidarity with them
A Certified Protection Professional (CPP) skilled in security management and risk assessment, Kim will play an essential part in ensuring this team continues to stay focused on our commitments and providing a structured approach to meeting our stakeholder needs.
A success story of a good samaritan working with Campus Security and partners to recover a stolen bike. To tackle bike theft on campus, UBC has partnered with Project 529, a community-based bike registration and recovery service. It only takes five minutes to enter your bike's information in UBC's 529 Garage!
UBC Vancouver Campus Security is taking a look at its services and organizational model to better understand how it can best meet the needs of a rapidly changing community. One important part of this review will be a community engagement process with students, faculty, and staff. Whether or not you have accessed Campus Security services, you can provide input between March 27 and April 18, 2023.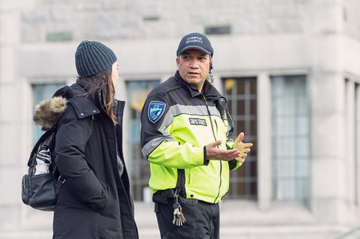 UBC Campus Security and UBC Sprouts — a 100% volunteer and student-run organization at UBC, along with volunteers from across the university will be taking part in the Homelessness Services Association of BC's Point-in-Time Homeless Count to collect details about the experiences and demographics of people who are experiencing homelessness.
Irving K. Barber Learning Centre and the AMS Nest are open late during the weekend. If you are stranded on campus due to the current winter conditions and require immediate support, please contact Campus Security at 604-822-2222.
The University RCMP wish to warn the public about recent complaints of a suspicious man in Pacific Spirit Park near the 5300-block of NW Marine Drive.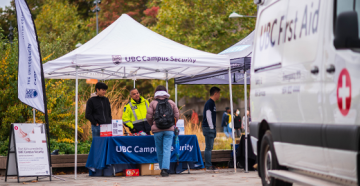 Stop by UBC Campus Security's booths to learn how you can help keep yourself and the UBC community safe and secure.